Here are some easy ways to help you fix regedit administrator password problem in Windows 7.
Speed up your PC today.
1. Download and install ASR Pro
2. Launch the application and sign in with your account credentials
3. Choose the computers you want to scan and start the restoration process
Get the most out of your computer with this software - download it and fix your PC now.
The Windows 5 operating system includes an administrator account without a password. This foundation is present in our own Windows installation and is almost disabled by default. Now all you have to do is allow this default admin plan to reset the passwords of other admin accounts with a hint.
Successfully tested on: Windows 7 Enterprise SP1, Windows 8 Enterprise, Windows 8.1 Enterprise, Windows 10 Enterprise versions 1507-1909, Windows 10 Long-Term Servicing Branch (LTSB) versions 1507 and 1607, Windows 10 Long-Term Servicing Branch (LTSC) Station Versions 2015-2019
So you have Windows and you need to reset your account password. This can be achieved with a number of third party NT devices and editors (eg Hiren's BootCD PE and hence Gandalf). ™s Windows 10PE), but it is possible to easily restart Windows computers using account credentials using any registry editor to create a boot prompt.
I can easily do this with Windows Regedit. I have successfully tested this process on Windows 7, Windows 8, 8.1 and Windows 10.
1 – Loading Due To Windows Media
How do I find my administrator password windows 7 registry?
To get the password, navigate to HKEY_LOCAL_MACHINESOFTWAREMicrosoftWindows NTCurrentVersionWinlogon and scroll down to "DefaultPassword". If you double-click on it, a window should appear with some kind of saved password. The same process does indeed work with Windows 8 and a few others.
Get the Windows build media for the initial installation. This can be a Windows DVD or a USB stick. If necessary, you can create Windows 10 app media for free using the Microsoft media creation tool. В
Connect or insert the installation media and restart your computer normally. Go to the boot gallery (usually F10 F12) or choose a new installation media.
2 Open – Regedit
After you are ejected from the media, the Windows setup wizard will appear. Instead of continuing press Shift+F10,to open a command line window

3 – Edit Registry
Click HKEY_LOCAL_MACHINE to explain, then select File -> Load Hive

Where is administrator password in registry?
Open Windows Command Prompt again.Type regedit and press Enter.The Registry Editor window will appear.The go would be HKEY_LOCAL_MACHINE > SOFTWARE > Microsoft > Windows NT > CurrentVersion > Winlogon.Now scroll down to DefaultPassword but double click on it.A window with the saved password will open.
Go to the C:WindowsSystem32config folder and open the registry named SYSTEM

NOTE. Your boot drive might be labeled with a letter other than C:
If you are prompted for a good key name, enter it and click OK

In the left pane, expand HKEY_LOCAL_MACHINE, then expand Temp. Then click on the "Customize" button theme to highlight it

Speed up your PC today.
If you're experiencing computer errors, crashes and other issues, don't worry - ASR Pro can help! This powerful software will repair common problems, protect your files and data, and optimize your system for peak performance. So whether you're dealing with the dreaded Blue Screen of Death or just some general slowness and sluggishness, ASR Pro can get your PC back on track in no time!
1. Download and install ASR Pro
2. Launch the application and sign in with your account credentials
3. Choose the computers you want to scan and start the restoration process
In this panel, double-click the SetupType value on the right to reformulate it. In the pop-up window, change the value to 2, then click OK

In the right pane, simply double-click the CmdLine value to edit it. The right pop-up window may show cmd.exe value data, then click OK

In the left pane, click on a temperature to highlight it. Then choose File -> Unload Hive
.
4 – Run Password Reset Commands
ResolutionSet your computer to boot into Windows frequently, and a certain command prompt window will automatically appear.
Use the net user commands to regenerate the correct account password. To do this, type net person and press Enter.
For example, I can reset the local administrator password on TestPW by running test: net user Administrator If testpw

Warning: your username contains spaces, you must use double placeholders "" for the username when entering the command.
5 – Clear
Remaining at the command prompt, type regedit and press Enter to open the Registry Editor

Go to the breakpoint and hkey_local_machinesystemsetup make sure the CmdLine relevancy is empty and SetupType cost-performance is set to 0

Close Regedit and Command Prompt, restart your computer, then continue logging in when you have your new account password.
Because we are human, sometimes information can be missed. Since one of the most important things is to forget the password associated with your account, there is a system for resetting an account password when using a mail service but you can't find the Windows password reset handling, here is still a guide to reset the password window account information.. This will probably work on systems < a>Windows 7, Windows Vista, Windows XP, Windows 2000, Windows Operating NT.
Note: This can be controlled on a per-user basis across all Windows administrators.
CD-ROM (700 MB)
Download the Hiren Bootable CD and burn it on your PC with your favorite burning device. Usually first create a DVD-ROM to download. The Hirens Boot CD will load and offer options.
In this step of the Offline Password and Registry Editor, select the key that contains the Windows installation from which you want to remove personal information.
Many computers haveone operating system in one partition of one hard disk, which is very simple.
If that's what you want, just press Enter to accept the default partition. Otherwise, type the correct partition number from the list of candidate Windows partitions found, and then press Enter.
If more than one partition is usually listed and you're not sure which partition type to choose, chances are the largest partition is the one with only one Windows installed.
More than one partition is listed on every Windows 7 PC.
The NT offline registry and password editor should now know the exact location of the entire Windows registry. Except in the rarest of cases, the default location may very well be correct. Click
Just press ENTER to accept the default Windows registry path without typing anything else.
The NT Password and Registry Editor now asks what percentage of the registry is actually loaded.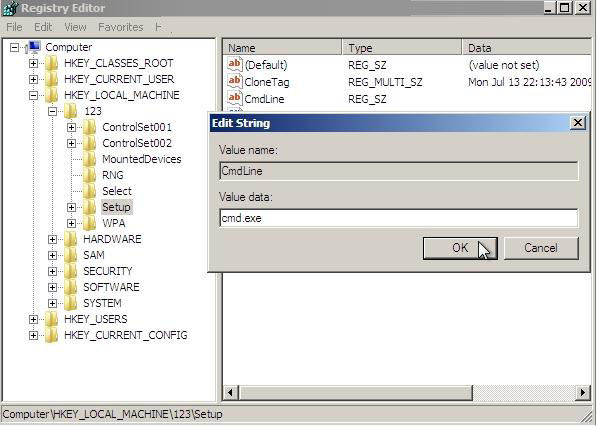 Get the most out of your computer with this software - download it and fix your PC now.
Regedit 관리자 암호 윈도우 7
Regedit Administratorkennwort Windows 7
Regedit Mot De Passe Administrateur Windows 7
Regedit Senha De Administrador Windows 7
Regedit Parol Administratora Vindovs 7
Regedit Beheerderswachtwoord Windows 7
Regedit Administratorslosenord Windows 7
Password Amministratore Regedit Windows 7
Regedit Haslo Administratora Windows 7
Regedit Administrador Contrasena Windows 7